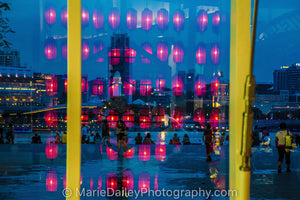 Important Notice:
Please read "Formats", "Finishes" and "Frames" in the main menu for a complete understanding of the photographs I offer. And do not hesitate to contact me if you have any doubt.
This photograph is part of the collection entitled 'Urban'.
This photograph captures the reflection of a wall of red lanterns, set up for Chinese New Year, in a glass pane at the Marina Bay Sands building. The MBS is perhaps the most recognizable building of the Singapore skyline, since the end of its construction in 2010. If you look closely, you can spot Singapore's other symbol: the Merlion.