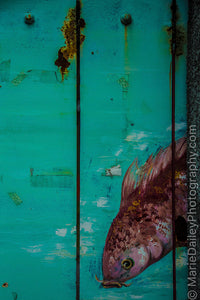 This photograph is part of the collection entitled "City Art".
This image of a pink koi, painted on a turquoise background, was captured at Haw Par Villa, a theme park in Singapore depicting scenes from Chinese mythology, folklore, legends, history, and illustrations of various aspects of Confucianism. The Koi fish signifies abundance in many Asian cultures. They are also associated with luck, abundance, perseverance, advancement and courage.

Important Notice:
Please read "Formats", "Finishes" and "Frames" in the main menu for a complete understanding of the photographs I offer. And do not hesitate to contact me if you have any doubt.