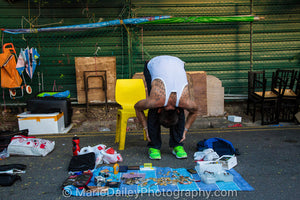 This photograph is part of the collection entitled 'Uncles & Aunties'.
This picture was taken at a flea market. The vendor, seated for most of the day on a plastic chair, occasionally stretches his muscles. In doing so, he exposed his detailed tattoo, a pattern covering most of his back.
Important Notice:
Please read "Formats", "Finishes" and "Frames" in the main menu for a complete understanding of the photographs I offer. And do not hesitate to contact me if you have any doubt.