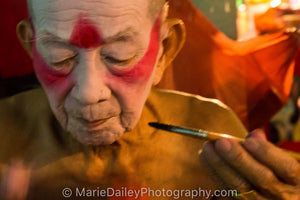 This photograph is part of the collection entitled 'Chinese Opera'.
This elderly performer applies thick stage makeup with a slender brush before the night's performance. He seems pensive, perhaps reminiscing about the early days of her career, when most of the Kampong would attend shows, and children would even watch from the side of the stage itself, only a few feet away from the actors. 
Important Notice:
Please read "Formats", "Finishes" and "Frames" in the main menu for a complete understanding of the photographs I offer. And do not hesitate to contact me if you have any doubt.