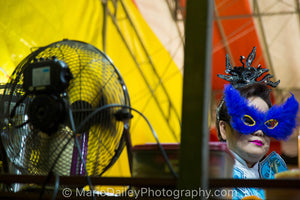 This photograph is part of the collection entitled 'Chinese opera'.
This image was captured within the large, red and white tents that act as the backstage area at the Hokkien Opera performances. The temperatures can often get quite high under these plastic tents, thus, the large fan. A performer dons a feathered mask giving her a look of stately elegance.
Important Notice:
Please read "Formats", "Finishes" and "Frames" in the main menu for a complete understanding of the photographs I offer. And do not hesitate to contact me if you have any doubt.