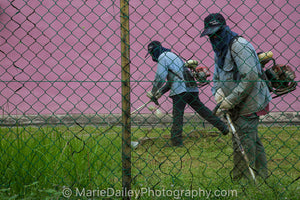 This photograph is part of the collection entitled 'Helping Hands'.
Workers cutting grass with weed whips. These workers can be seen all over Singapore covered from head to toe with protective clothing. They carefully manicure the green spaces in Singapore which would quickly turn to jungle without them.
Important Notice:
Please read "Formats", "Finishes" and "Frames" in the main menu for a complete understanding of the photographs I offer. And do not hesitate to contact me if you have any doubt.