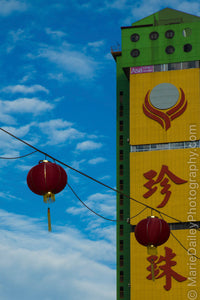 This photograph is part of the collection entitled 'Urban'.
This image was taken from street level in Chinatown, with People's Park towering above. Red lanterns are hung for Chinese New Years, contrasting starkly with the azure sky.

Important Notice:
Please read "Formats", "Finishes" and "Frames" in the main menu for a complete understanding of the photographs I offer. And do not hesitate to contact me if you have any doubt.