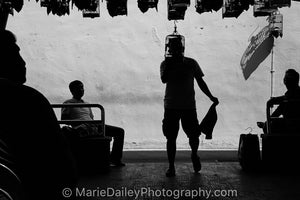 This photograph is part of the collection entitled 'Bird songs'.
This picture was taken just as a man was lowering a caged bird from the ceiling pole. The cage seems to perfectly enclose his head.. Around him, three men sit, relax, and observe the cages suspended from the ceiling.
Important Notice:
Please read "Formats", "Finishes" and "Frames" in the main menu for a complete understanding of the photographs I offer. And do not hesitate to contact me if you have any doubt.