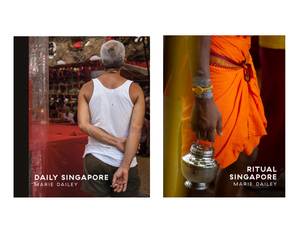 Marie Dailey's first two books:  Dailey Singapore & Ritual Singapore
These two books are composed exclusively of "street photographs" taken in Singapore and therefore feature images captured in the immediacy of a fleeting moment, without any kind of staging. Daily life is portrayed as authentically as possible through unique snapshots that tell stories of individual people, but which are universal in their humanity. 
Local pick-up and local delivery for three or more books is free of charge.
Local delivery for less than three books is charged SG$10.
Daily Singapore 140 pages - Ritual Singapore 180 pages
Dimensions for each book are the same: 26 cm x 22 cm
Paper: Maple Stucco 150 gsm
Weight: Daily Singapore 800 g & Ritual Singapore 950 g for a total of 1750 g.