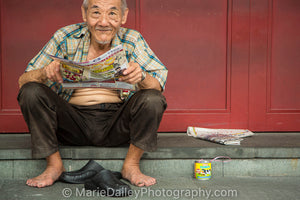 This photograph is part of the collection entitled 'Uncles & Aunties'.
This elderly Uncle is seated on the steps of a Buddhist Temple in Chinatown, where he is having his morning coffee or 'Kopi' out of a can of sweetened condensed milk. Indeed, takeaway coffee from the kopitiams is usually transported in a plastic bag with a straw today, but recycled cans used to be more common. This image is a look into the daily routines of retirement. Francis gazes directly back, smiling with an almost impish look in his eyes, perhaps wondering what he will do next today.
Important Notice:
Please read "Formats", "Finishes" and "Frames" in the main menu for a complete understanding of the photographs I offer. And do not hesitate to contact me if you have any doubt.