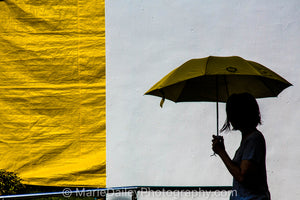 This photograph is part of the collection entitled "Umbrellas".
This image captures the silhouette of a short-haired woman, carrying her umbrella to protect herself from the hot Singapore sun. The yellow hue of her umbrella matches the bright tent erected for a celebration at the foot of an HDB block.

Important Notice:
Please read "Formats", "Finishes" and "Frames" in the main menu for a complete understanding of the photographs I offer. And do not hesitate to contact me if you have any doubt.