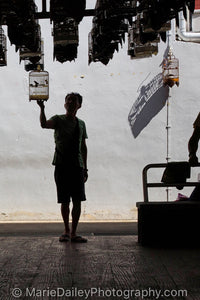 Important Notice:
Please read "Formats", "Finishes" and "Frames" in the main menu for a complete understanding of the photographs I offer. And do not hesitate to contact me if you have any doubt.
This photograph is part of the collection entitled 'Bird songs'.
This photograph was captured just as a bird-owner was lifting the cage containing his songbird, to hang it among the dozens of others, hooked to specifically designed poles along the ceiling. This moment seems as if suspended in time.