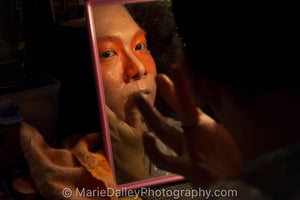 This photograph is part of the collection entitled 'Chinese opera'.
This opera performer, his reflection seen in his pink-framed mirror, is applying a second layer of makeup with his fingertips. He is a young performer, compared to the others. His eyes are lost in thought, or perhaps he is simply intent on his make-up being perfect.
Important Notice:
Please read "Formats", "Finishes" and "Frames" in the main menu for a complete understanding of the photographs I offer. And do not hesitate to contact me if you have any doubt.