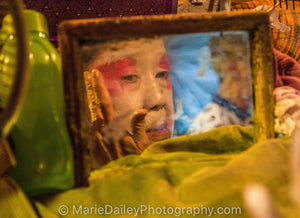 This photograph is part of the collection entitled 'Chinese Opera'.
This elderly performer applies thick stage makeup with her hands before the night's performance. The dusty mirror starkly contrasts with the plastic, lime green water-bottle, echoing opposition between this ancient art form and the ever increasing modernernity of Singapore.
Important Notice:
Please read "Formats", "Finishes" and "Frames" in the main menu for a complete understanding of the photographs I offer. And do not hesitate to contact me if you have any doubt.