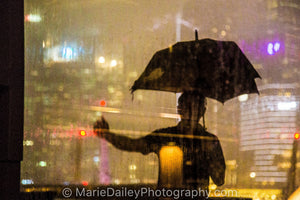 This photograph is part of the collection entitled 'Umbrellas'.
Taken atop the Esplanade, also referred to as the Durian due to its unique shape, this picture captures a silhouette of a man. Behind him, the Central Business District (CBD) lights twinkle, distorted by the steamed glass and tropical rain. 
Important Notice:
Please read "Formats", "Finishes" and "Frames" in the main menu for a complete understanding of the photographs I offer. And do not hesitate to contact me if you have any doubt.