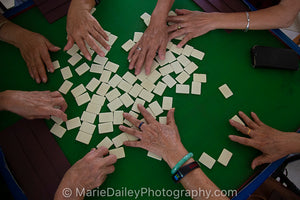 Important Notice:
Please read "Formats", "Finishes" and "Frames" in the footer menu for a complete understanding of the photographs I offer. And do not hesitate to contact me if you have any doubt.
This photograph is part of the collection entitled 'Uncles & Aunties'.
Mahjong is a fast-paced game, played with differently patterned tiles. The game was originally developed in China during the Qing dynasty, as has become immensely popular all across Asia. It is particularly popular among the older generations. This picture captures an aerial view of a mahjong, and the many hands shuffling the tiles.