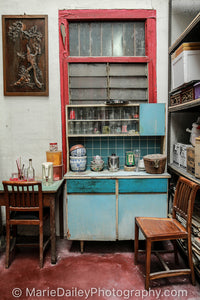 Important Notice:
Please read "Formats", "Finishes" and "Frames" in the footer menu for a complete understanding of the photographs I offer. And do not hesitate to contact me if you have any doubt.
This photograph is part of the collection entitled 'Urban'.
This classic Peranakan kitchen can be found in a traditional Singaporean-Chinese clan house around the central area of Orchard Road. Coloring the windows in red is traditionally auspicious, which is an interesting clash with the pale blue cupboards, and the electric kettle.