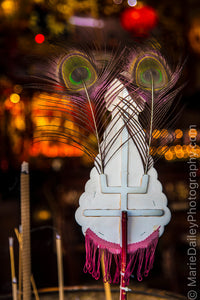 This photograph is part of the collection entitled "Celebrations".
In Buddhism, peacock tail feathers, as seen here in an offering bowl, represent openness, and the ability to thrive in the face of challenges and suffering. Such feathers can also be associated with compassion, in relation to the legend of Kwan Yin or Guanyin, a Buddhist who when offered the chance to become immortal, chose to stay mortal to help humanity grow spiritually. 
Important Notice:
Please read "Formats", "Finishes" and "Frames" in the main menu for a complete understanding of the photographs I offer. And do not hesitate to contact me if you have any doubt.