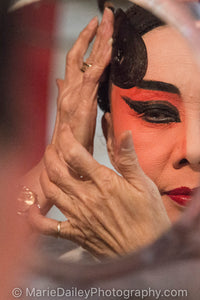 This photograph is part of the collection entitled 'Chinese Opera'.
This aging performer, adds the finishing touches to her stage regalia. She adjusts her headdress with elegant hand movements, and a glint in her eye.

Important Notice:
Please read "Formats", "Finishes" and "Frames" in the main menu for a complete understanding of the photographs I offer. And do not hesitate to contact me if you have any doubt.