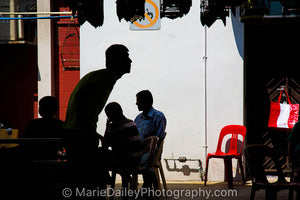 Important Notice:
Please read "Formats", "Finishes" and "Frames" in the footer menu for a complete understanding of the photographs I offer. And do not hesitate to contact me if you have any doubt.
This photograph is part of the collection entitled 'Bird songs'.
On one of my usual visits to the bird-singing corner, a particularly tall and lanky figure appeared. His pose, as he gazed up at the bird cages hanging from the ceiling,  reminded me of the red figural statues by artist Chen Wen Ling. In the background, men socialize around a table.