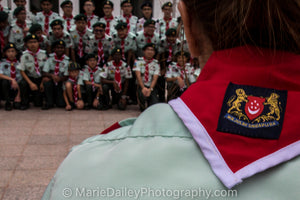 This photograph is part of the collection entitled "Celebrations".
This image was captured at the Istana, residence of the President of Singapore, during a Chinese New Year Celebration. The Istana is only open to the public during public holidays. The crest of Singapore is clearly visible on the back of this Scout's scarf with the flag and a golden lion. One can read 'Majulah Singapura' meaning 'onwards, Singapore' under it, which also refers to the national anthem of singapore.
Important Notice:
Please read "Formats", "Finishes" and "Frames" in the main menu for a complete understanding of the photographs I offer. And do not hesitate to contact me if you have any doubt.