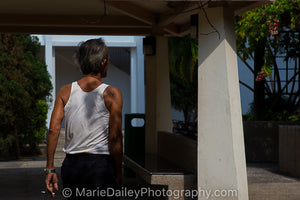 This photograph is part of the collection entitled 'Uncles & Aunties'.
This photo captures what I think of as the typical Singaporean 'uncle' who can be spotted relaxing around the Hawker Centers, and HDB public spaces, often wearing a sleeveless under-shirt which in French is called a 'Marcel'.

Important Notice:
Please read "Formats", "Finishes" and "Frames" in the main menu for a complete understanding of the photographs I offer. And do not hesitate to contact me if you have any doubt.