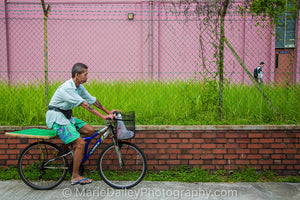 This photograph is part of the collection entitled 'Uncles & Aunties'.
This tattooed 'uncle' with his colourful shorts, flip-flops, and banana-bag has his own unique style which punctuates the colourful background of the industrial centre through which he pedals.
Important Notice:
Please read "Formats", "Finishes" and "Frames" in the main menu for a complete understanding of the photographs I offer. And do not hesitate to contact me if you have any doubt.