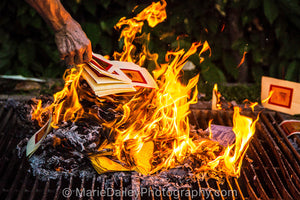 Important Notice:
Please read "Formats", "Finishes" and "Frames" in the footer menu for a complete understanding of the photographs I offer. And do not hesitate to contact me if you have any doubt.
This photograph is part of the collection entitled 'Ritual Singapore'.
This image depicts traditional paper money-burning. Fake paper money is the most common offering. It is believed that when burned, the smoke brings the offering up to heaven where deceased family members can use it. Burning above the sewer grates so that the ashes may immediately be disposed of is typical. Not pictured is the wire grating often set up around it to ensure flaming paper bits are not blown away by the wind which would be a fire hazard.