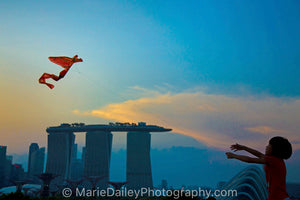 Important Notice:
Please read "Formats", "Finishes" and "Frames" in the main menu for a complete understanding of the photographs I offer. And do not hesitate to contact me if you have any doubt.
This photograph is part of the collection entitled 'Garden city'.
Kite flying is believed to have been invented in China in the Warring States period for military purposes, of measuring distances and wind speeds. Of course, kites as we know them today are a form of entertainment. They have remained a tradition in Chinese culture. Here, we see a young girl flying a silk or perhaps paper kite from the Marina Barrage. The barrage is a very popular place to fly kites in Singapore, as being by the water there are no tall trees or buildings around for the kite to get caught on, and the iconic Singapore skyline is in full view. It is particularly beautiful to visit the barrage around sunset.