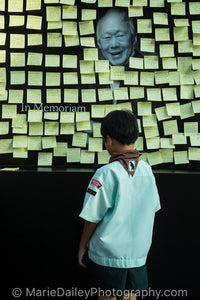 This photograph is part of the collection entitled 'Last goodbyes to a founding father'.
On the day of LKY's state funeral, I decided to visit the National Museum of Singapore, one of the many centers set up so individuals could come pay their respects to him and grieve together. Citizens wrote words of thanks to LKY, of goodbye, and of condolences to his family on brightly coloured post-it notes which could be stuck to the portraits of LKY, forming a colourful wreath. Here, a young Singaporean boy-scout pays his respects.
Important Notice:
Please read "Formats", "Finishes" and "Frames" in the main menu for a complete understanding of the photographs I offer. And do not hesitate to contact me if you have any doubt.