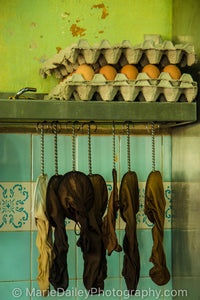 This photograph is part of the collection entitled 'Makan'.
Despite the heat, coffee culture, or rather Kopi culture, after the Malay term, has an important place in Singapore. This image was captured in a traditional Kopitiam, or café. A typical breakfast there would include Kaya toast, soft-boiled eggs and your choice of Kopi such as Kopi-O (strong black coffee with sugar), Kopi-C (with evaporated milk and sugar) and so on… 
Important Notice:
Please read "Formats", "Finishes" and "Frames" in the main menu for a complete understanding of the photographs I offer. And do not hesitate to contact me if you have any doubt.