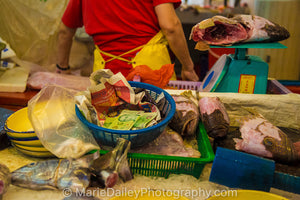 This photograph is part of the collection entitled 'Makan.
This image was captured at the wet market of Tiong Bahru, one of the most popular in Singapore. The coins and notes for making change are kept in the plastic basket with nothing between them and customers, would make easy pickings for thieving hands; truly a testament to the trust and security that reigns in Singaporean Society.

Important Notice:
Please read "Formats", "Finishes" and "Frames" in the main menu for a complete understanding of the photographs I offer. And do not hesitate to contact me if you have any doubt.