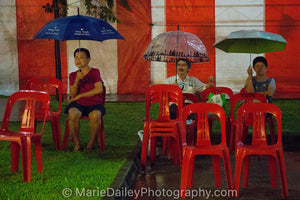 This photograph is part of the collection entitled "Umbrellas".
The image, taken outside of a Taoist temple in Hougang captures the both the dwindling audience size of the Hokkien Language Opéra, as well as the dedication of its loyal public, that will brave the rain to catch the show.

Important Notice:
Please read "Formats", "Finishes" and "Frames" in the main menu for a complete understanding of the photographs I offer. And do not hesitate to contact me if you have any doubt.